Charlie (Charles) G Irvin, Ph.D.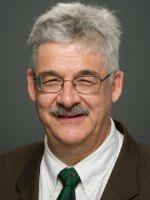 Adjunct Faculty
Background
Dr. Irvin was awarded his Ph.D. in Physiology from the University of Wisconsin in 1978, then was a NIH postdoctoral fellowship at McGill University in Montreal from 1978-1980. In 1980 he moved to the National Jewish Center for Immunology and Respiratory Medicine and the University of Colorado, Denver. In 1998, he became head of the Vermont Lung Center. Currently he is a Professor of Medicine and the Vice Chairman for Research for the Department.
Research Description
My research focuses on asthma, pulmonary physiology and animal models of lung disease.
Faculty Highlighted Publications
Lee JJ, Dimina D, Macias MMP, Ochkur SI, McGarry MP, O'Neill KR, Protheroe C, Pero R, Nguyen T, Cormier SA, Lenkiewicz E, Colbert D, Rinaldi L, Ackerman SJ, Irvin CG, Lee NA. Mice Congenitally Deficient of Eosinophils Define a Link with Asthma Science 305:1773-1776, 2004.
Wagers SS, Norton RJ, Rinaldi LM, Bates JHT, Sobel BE, Irvin CG. Extravascular Fibrin, Plasminogen Activator, Plasminogen Activator Inhibitors, and Airway Hyperrresponsiveness. J Clin Invest 114:104-111, 2004
Diehl S. Krahl T, Rinaldi L, Norton R, Irvin CG, Rincon M. Inhibition of NFAT specifically in T cells prevents allergic pulmonary inflammation. J Immunol 172:3597-3603, 2004.
Wagers, Lundblad LKA, EkmanM, Irvin CG, Bates JHT. The Allergic Mouse Model of Asthma: Normal Smooth Muscle in an Abnormal Lung J. Appl. Physiol 96:2019-2027, 2004.
Poynter ME, Irvin CG, Janssen-Heininger YMW. A Prominent Role for Airway Epithelial NF-κB Activation on Lipopolysaccharide-Induced Airway Inflammation. J Immunology 170:6257-6265, 2003.
Selected Awards