David M. Warshaw, Ph.D.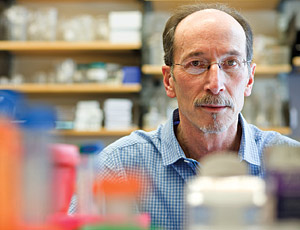 Professor and Chair
Background
Dr. Warshaw received his Ph.D. in Physiology and Biophysics at the University of Vermont in 1978, and continued his research studying the molecular mechanism of muscle contraction as a post-doctoral associate at the University of Massachusetts Medical School. He returned to the University of Vermont as an Assistant Professor of Molecular Physiology & Biophysics in 1983 and now is Professor and Chair of the Department. Currently, Dr. Warshaw's lab is using state-of-the-art single molecule detection and manipulation techniques to characterize the structure and function of myosin molecular motors in normal and disease states of the cardiovascular system.
Research Description
I received my B.S. in Electrical Engineering from Rutgers University and Ph.D. in Physiology & Biophysics from the University of Vermont. As a postdoc with Fredric Fay at UMass Medical, I studied single smooth muscle cell mechanics. My present research focuses on the structure and function of cardiac muscle contractile proteins as well as non-muscle molecular motors using single molecule biophysical techniques such as laser trapping and super-resolution microscopy. Presently, my lab has two research foci. One area focuses on the molecular mechanism by which myosin binding protein-C modulates cardiac and skeletal muscle contractility, using an in vitro muscle model systems. The other focus is in vitro 3D model systems of intracellular cargo transport by myosin motors. I have been the Principal Investigator of a National Institutes of Health (NIH) Program Project Grant focused on the molecular basis of genetic heart failure. I am an Established Investigator and Fellow of the American Heart Association and a Fellow of the Biophysical Society. I have organized numerous International Conferences and Symposia, including the Gordon Conference on "Muscle Contractile Proteins" (1999, 2002) and was the program co-chair of the 2009 Biophysical Society annual meeting. I have and continue to serve on numerous NIH review panels and was a member of the Scientific Advisory Panel for the NIH Nanomedicine Initiative. I have trained 26 pre- and postdoctoral fellows of which 17 have gone on to university faculty positions.