Michael Toth, Ph.D.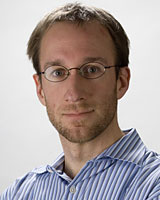 Adjunct Faculty
Background
Dr. Toth graduated with a BS in Biological Sciences from the University of Vermont in 1993. Thereafter, he received his PhD in Physiology from the University of Maryland at Baltimore in 1997. Dr. Toth returned to UVM to complete a postdoctoral fellowship in 1997 and moved into a faculty position in the Department of Medicine in 1998.
Research Description
Our laboratory evaluates human skeletal muscle physiology in an effort to identify the fundamental defects that underlie muscle atrophy and dysfunction. Our long-term goal is to identify cellular and molecular targets for therapeutic interventions that can prevent, delay or correct physical disability. To accomplish this goal, we evaluate skeletal muscle structure, function and metabolism at the whole muscle, cellular and molecular levels. Additionally, we investigate various therapeutic interventions for their ability to correct molecular and cellular defects and improve overall physical function in these conditions. We are currently focused on conducting studies in acute/chronic heart failure, cancer, skeletal muscle disuse and aging.
Faculty Highlighted Publications
Miller MS, LeWinter MM, VanBuren P, Lecker SH, Shelbe DE, Palmer BM, Maughan DW, Ades PA, Toth MJ. Mechanisms underlying skeletal muscle weakness in human heart failure: alterations in single muscle fiber myosin protein content and function. Circulation: Heart Fail 2: 700-706, 2009
Toth MJ, Miller MS, VanBuren P, Bedrin NG, LeWinter MM, Ades PA, Palmer BM. Resistance training alters skeletal muscle structure and function in human heart failure: effects at the tissue, cellular and molecular levels. J Physiol 590: 1243-59, 2012
Toth MJ, Ward K, van der Velden J, Miller MS, VanBuren P, LeWinter MM, Ades PA. Chronic heart failure reduces Akt phosphorylation in human skeletal muscle: relationship to muscle size and function. J Appl Physiol 110: 892-900, 2011