Heidi Laura Hafemann Malaby, Ph.D.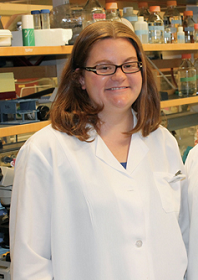 Background
I received my Ph.D. in 2014 from the University of Massachusetts Medical School, working in the lab of Bill Kobertz. My thesis research focused on identifying molecular determinants that alter the kinetics of N-glycosylation for type I transmembrane peptides. We found that peptides that do not receive a glycan in a timely manner can be detrimental to proper forward trafficking and protein function. After completion of my Ph.D., I joined the lab of Jason Stumpff in the Molecular Physiology and Biophysics Department at UVM.
Research Description
Proper DNA segregation is essential in dividing cells to insure an intact genetic code throughout cellular propagation. This segregation is controlled through chromosomal alignment during metaphase at the metaphase plate, and is regulated in part by several members of the kinesin family of molecular motors, including Kif18A, Kif18B, and Kif4A. Despite high sequential and structural similarity, these motors localize to specific regions of dividing cells. I am determining the molecular mechanism of this specificity, and how this specificity relates to each motors function.
Selected Awards
Best Poster Award, Gordon Research Conference Glycobiology 2013
Recognition of Outstanding Community Service, UMass Medical School 2012