Guy Kennedy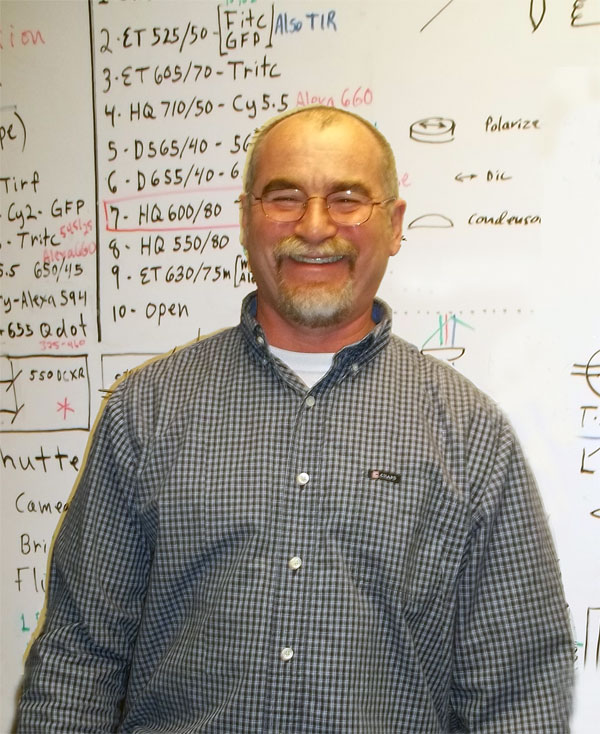 Research Engineer
Research Description
My goal is to design, develop, fabricate and support world class microscopy systems for research in molecular physiology. Our research demands high sensitivity with fast temporal and precise spatial resolution. These systems include integrated Laser Optical Tweezers with dual color Total Internal Reflection Microscopy (TIRFM) along with single molecule detection, manipulation and tracking capabilities. Mechanical measurements of pico-newton force, nanometer displacement, and pico-newtons/ nanometer stiffness are used to address questions in single molecules. These techniques are applied to protein ensembles, intercellular dynamics, and molecular protein- protein interactions. High speed fluorescent imaging of single molecule dynamics are possible using state of the art ICCD cameras with TIR and far field illumination. Recent initiatives include high speed 3D tracking, STORM, and PALM Super Resolution microscopy. Myosin, Kinesin, C-Protein, Actin, Microtubules and other Cytoskeletal proteins are studied with our techniques.
Current Publications:
Choi Y, Lu J, Hu Z, Pankratz DG, Jiang H, Cao M, Marchisano C, Huiras J, Fedorowicz G, Wong MG, Anderson JR, Tom EY, Babiarz J, Imtiaz U, Barth NM, Walsh PS, Kennedy GC, Huang J (2017) Analytical performance of Envisia: a genomic classifier for usual interstitial pneumonia. BMC Pulm Med 17(1): 141.
Schembri R, Spong J, Peters A, Rochford P, Wilksch P, O'Donoghue FJ, Greenwood KM, Barnes M, Kennedy GA, Berlowitz DJ (2017) Light sensors for objective light measurement in ambulatory polysomnography. PLoS One 12(11): e0188124.
Kennedy GJ, Ceïde ME (2018) Screening Older Adults for Mental Disorders. Clin Geriatr Med 34(1): 69-79.
Saha BC, Kennedy GJ (2017) Ninety six well microtiter plate as microbioreactors for production of itaconic acid by six Aspergillus terreus strains. J Microbiol Methods 144: 53-59.
Kennedy GC, Barth NM, Walsh PS, Huang J, Pankratz DG, Choi Y, Fedorowicz GM, Anderson JD, Raghu G, Martinez FJ, Colby TV, Lynch DA, Brown KK, Groshong SD, Myers JL, Flaherty KR, Steele MP (2017) Reply: Improving Care for Patients with Interstitial Lung Disease Using Machine Learning Requires Transparency and Reproducibility. Ann Am Thorac Soc : .
Saha BC, Kennedy GJ (2017) Mannose and galactose as substrates for production of itaconic acid by Aspergillus terreus. Lett Appl Microbiol 65(6): 527-533.
Predina JD, Newton A, Kennedy G, Lee MK, Singhal S (2017) Near-Infrared Intraoperative Imaging Can Successfully Identify Malignant Pleural Mesothelioma After Neoadjuvant Chemotherapy. Mol Imaging 16: 1536012117723785.