Guy Kennedy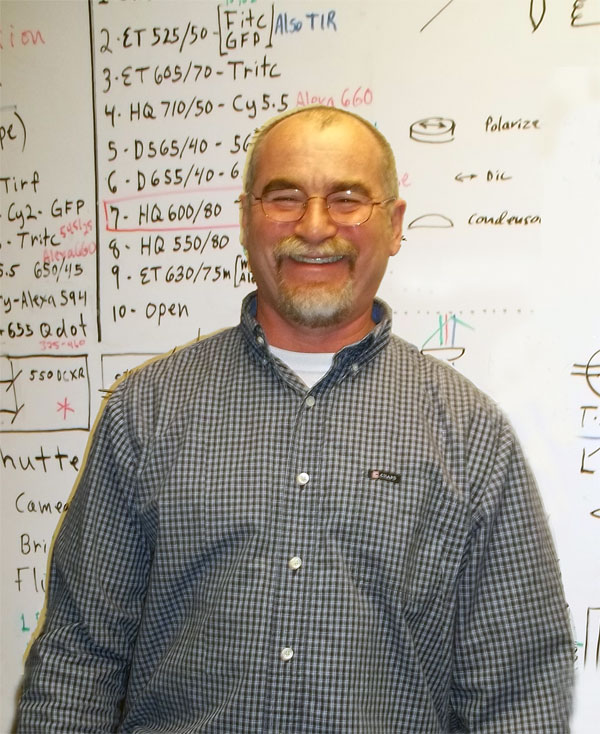 Research Engineer
Research Description
My goal is to design, develop, fabricate and support world class microscopy systems for research in molecular physiology. Our research demands high sensitivity with fast temporal and precise spatial resolution. These systems include integrated Laser Optical Tweezers with dual color Total Internal Reflection Microscopy (TIRFM) along with single molecule detection, manipulation and tracking capabilities. Mechanical measurements of pico-newton force, nanometer displacement, and pico-newtons/ nanometer stiffness are used to address questions in single molecules. These techniques are applied to protein ensembles, intercellular dynamics, and molecular protein- protein interactions. High speed fluorescent imaging of single molecule dynamics are possible using state of the art ICCD cameras with TIR and far field illumination. Recent initiatives include high speed 3D tracking, STORM, and PALM Super Resolution microscopy. Myosin, Kinesin, C-Protein, Actin, Microtubules and other Cytoskeletal proteins are studied with our techniques.
Current Publications:
Kennedy GD, Lidor A, Jeyarajah DR, Walsh M, Hassan I, Soper N, Callery M, Ashley SW, Stain SC, Board of Directors of the Society for Surgery of the Alimentary Tract. (2019) Looking Ahead: the SSAT Strategic Plan Version 2.0 for the Next Decade. J Gastrointest Surg : .
Kennedy GJ (2019) The Frailty Phenotype Paradox: A Physically Defined Entity With Psychosocial Mediators. Am J Geriatr Psychiatry : .
Ben-Mahmoud S, Anderson T, Chappell TM, Smeda JR, Mutschler MA, Kennedy GG, De Jong DM, Ullman DE (2019) A thrips vector of tomato spotted wilt virus responds to tomato acylsugar chemical diversity with reduced oviposition and virus inoculation. Sci Rep 9(1): 17157.
Schwarer AP, Butler J, Jackson K, Beligaswatte A, Martin L, Kennedy G, Daniela Z, Lewis I, Hiwase D, Wight J, He S, Grigg A, Morris K, Mollee P, Marlton P (2018) A Comparison of High-Dose Cytarabine During Induction Versus Consolidation Therapy in Newly Diagnosed AML. Hemasphere 2(6): e158.
Duffy ME, Rogers ML, Kennedy GA, Keel PK, Joiner TE (2019) Examining the association between body trust and body mass index with quantile regression. Eat Weight Disord : .
Thirunavukarasu C, Weber N, Morris K, Subramonia Pillai E, Curley C, Butler J, Kennedy G (2019) Weekly Cyclophosphamide-Bortezomib-Dexamethasone Induction Performs Comparably to Twice-Weekly Dosing with Respect to Both Response Rates and Survival after Autologous Transplant. Acta Haematol : 1-2.
Saha BC, Kennedy GJ (2019) Efficient Itaconic Acid Production by Aspergillus terreus -Overcoming the Strong Inhibitory Effect of Manganese. Biotechnol Prog : .