Guy Kennedy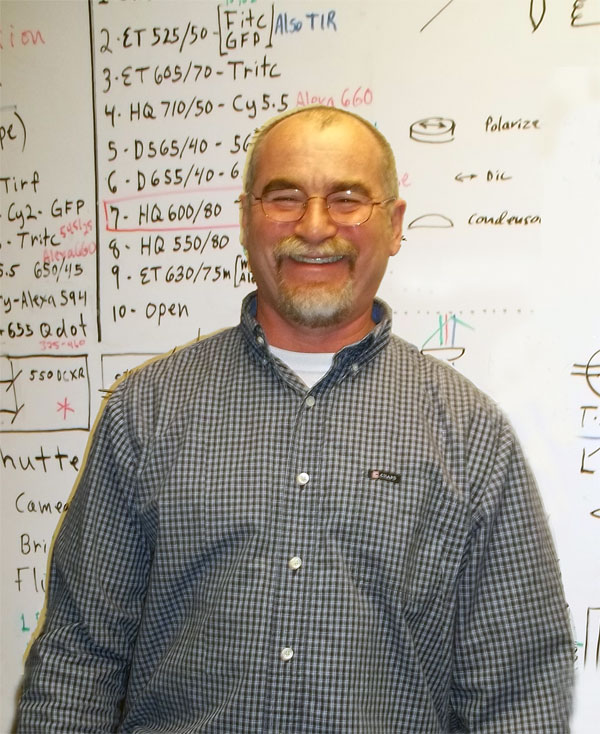 Research Engineer
Research Description
My goal is to design, develop, fabricate and support world class microscopy systems for research in molecular physiology. Our research demands high sensitivity with fast temporal and precise spatial resolution. These systems include integrated Laser Optical Tweezers with dual color Total Internal Reflection Microscopy (TIRFM) along with single molecule detection, manipulation and tracking capabilities. Mechanical measurements of pico-newton force, nanometer displacement, and pico-newtons/ nanometer stiffness are used to address questions in single molecules. These techniques are applied to protein ensembles, intercellular dynamics, and molecular protein- protein interactions. High speed fluorescent imaging of single molecule dynamics are possible using state of the art ICCD cameras with TIR and far field illumination. Recent initiatives include high speed 3D tracking, STORM, and PALM Super Resolution microscopy. Myosin, Kinesin, C-Protein, Actin, Microtubules and other Cytoskeletal proteins are studied with our techniques.
Current Publications:
D'Ambrosio DA, Huseth AS, Kennedy GG (2018) Temporal efficacy of neonicotinoid seed treatments against Frankliniella fusca on cotton. Pest Manag Sci : .
Rajabu CA, Kennedy GG, Ndunguru J, Ateka EM, Tairo F, Hanley-Bowdoin L, Ascencio-Ibáñez JT (2018) Lanai: A small, fast growing tomato variety is an excellent model system for studying geminiviruses. J Virol Methods : .
Catchpoole EM, Thirunavukarasu CE, Varelias A, Schlebusch S, Olver S, Zomerdijk N, Osland E, Kennedy GA, Tey SK, Hill GR, Markey KA (2018) Early Blood Stream Infection after BMT is Associated with Cytokine Dysregulation and Poor Overall Survival. Biol Blood Marrow Transplant : .
Wang H, Kennedy GG, Reay-Jones FPF, Reisig DD, Toews MD, Roberts PM, Herbert DA Jr., Taylor S, Jacobson AL, Greene JK (2018) Molecular Identification of Thrips Species Infesting Cotton in the Southeastern United States. J Econ Entomol : .
Mathew NR, Baumgartner F, Braun L, O'Sullivan D, Thomas S, Waterhouse M, Müller TA, Hanke K, Taromi S, Apostolova P, Illert AL, Melchinger W, Duquesne S, Schmitt-Graeff A, Osswald L, Yan KL, Weber A, Tugues S, Spath S, Pfeifer D, Follo M, Claus R, Lübbert M, Rummelt C, Bertz H, Wäsch R, Haag J, Schmidts A, Schultheiss M, Bettinger D, Thimme R, Ullrich E, Tanriver Y, Vuong GL, Arnold R, Hemmati P, Wolf D, Ditschkowski M, Jilg C, Wilhelm K, Leiber C, Gerull S, Halter J, Lengerke C, Pabst T, Schroeder T, Kobbe G, Rösler W, Doostkam S, Meckel S, Stabla K, Metzelder SK, Halbach S, Brummer T, Hu Z, Dengjel J, Hackanson B, Schmid C, Holtick U, Scheid C, Spyridonidis A, Stölzel F, Ordemann R, Müller LP, Sicre-de-Fontbrune F, Ihorst G, Kuball J, Ehlert JE, Feger D, Wagner EM, Cahn JY, Schnell J, Kuchenbauer F, Bunjes D, Chakraverty R, Richardson S, Gill S, Kröger N, Ayuk F, Vago L, Ciceri F, Müller AM, Kondo T, Teshima T, Klaeger S, Kuster B, Kim DDH, Weisdorf D, van der Velden W, Dörfel D, Bethge W, Hilgendorf I, Hochhaus A, Andrieux G, Börries M, Busch H, Magenau J, Reddy P, Labopin M, Antin JH, Henden AS, Hill GR, Kennedy GA, Bar M, Sarma A, McLornan D, Mufti G, Oran B, Rezvani K, Shah O, Negrin RS, Nagler A, Prinz M, Burchert A, Neubauer A, Beelen D, Mackensen A, von Bubnoff N, Herr W, Becher B, Socié G, Caligiuri MA, Ruggiero E, Bonini C, Häcker G, Duyster J, Finke J, Pearce E, Blazar BR, Zeiser R (2018) Sorafenib promotes graft-versus-leukemia activity in mice and humans through IL-15 production in FLT3-ITD-mutant leukemia cells. Nat Med 24(3): 282-291.
Scott AP, Tey SK, Butler J, Kennedy GA (2018) Diagnostic Utility of Endoscopy and Biopsy in Suspected Acute Gastrointestinal Graft-versus-Host Disease after Hematopoietic Progenitor Cell Transplantation. Biol Blood Marrow Transplant : .
Kennedy GA, Wick MR, Keel PK (2018) Eating disorders in children: is avoidant-restrictive food intake disorder a feeding disorder or an eating disorder and what are the implications for treatment? F1000Res 7: 88.