Guy Kennedy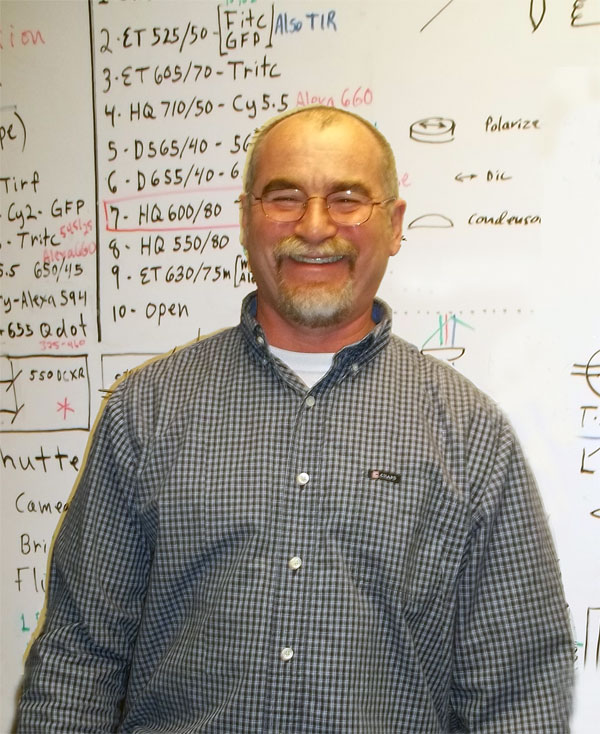 Research Engineer
Research Description
My goal is to design, develop, fabricate and support world class microscopy systems for research in molecular physiology. Our research demands high sensitivity with fast temporal and precise spatial resolution. These systems include integrated Laser Optical Tweezers with dual color Total Internal Reflection Microscopy (TIRFM) along with single molecule detection, manipulation and tracking capabilities. Mechanical measurements of pico-newton force, nanometer displacement, and pico-newtons/ nanometer stiffness are used to address questions in single molecules. These techniques are applied to protein ensembles, intercellular dynamics, and molecular protein- protein interactions. High speed fluorescent imaging of single molecule dynamics are possible using state of the art ICCD cameras with TIR and far field illumination. Recent initiatives include high speed 3D tracking, STORM, and PALM Super Resolution microscopy. Myosin, Kinesin, C-Protein, Actin, Microtubules and other Cytoskeletal proteins are studied with our techniques.
Current Publications:
Razani N, Niknam K, Wells NM, Thompson D, Hills NK, Kennedy G, Gilgoff R, Rutherford GW (2019) Clinic and park partnerships for childhood resilience: A prospective study of park prescriptions. Health Place 57: 179-185.
Kennedy G, Rea JNM, Rea IM (2019) Prompting medical students to self-assess their learning needs during the ageing and health module: a mixed methods study. Med Educ Online 24(1): 1579558.
Ali SZ, Siperstein A, Sadow PM, Golding AC, Kennedy GC, Kloos RT, Ladenson PW (2019) Extending expressed RNA genomics from surgical decision making for cytologically indeterminate thyroid nodules to targeting therapies for metastatic thyroid cancer. Cancer Cytopathol : .
Marx W, George ES, Mayr HL, Thomas CJ, Sarapis K, Moschonis G, Kennedy G, Pipingas A, Willcox JC, Prendergast LA, Itsiopoulos C (2019) Effect of high polyphenol extra virgin olive oil on markers of cardiovascular disease risk in healthy Australian adults (OLIVAUS): A protocol for a double-blind randomised, controlled, cross-over study. Nutr Diet : .
Laali KK, Zwarycz AT, Bunge SD, Borosky GL, Nukaya M, Kennedy GD (2019) Deuterated Curcuminoids: Synthesis, Structures, Computational/Docking and Comparative Cell Viability Assays against Colorectal Cancer. ChemMedChem : .
Lombardo AT, Nelson SR, Kennedy GG, Trybus KM, Walcott S, Warshaw DM (2019) Myosin Va transport of liposomes in three-dimensional actin networks is modulated by actin filament density, position, and polarity. Proc Natl Acad Sci U S A 116(17): 8326-8335.
Hao Y, Duh QY, Kloos RT, Babiarz J, Harrell RM, Traweek ST, Kim SY, Fedorowicz G, Walsh PS, Sadow PM, Huang J, Kennedy GC (2019) Identification of Hürthle cell cancers: solving a clinical challenge with genomic sequencing and a trio of machine learning algorithms. BMC Syst Biol 13(Suppl 2): 27.