Joan Braddock, B.S.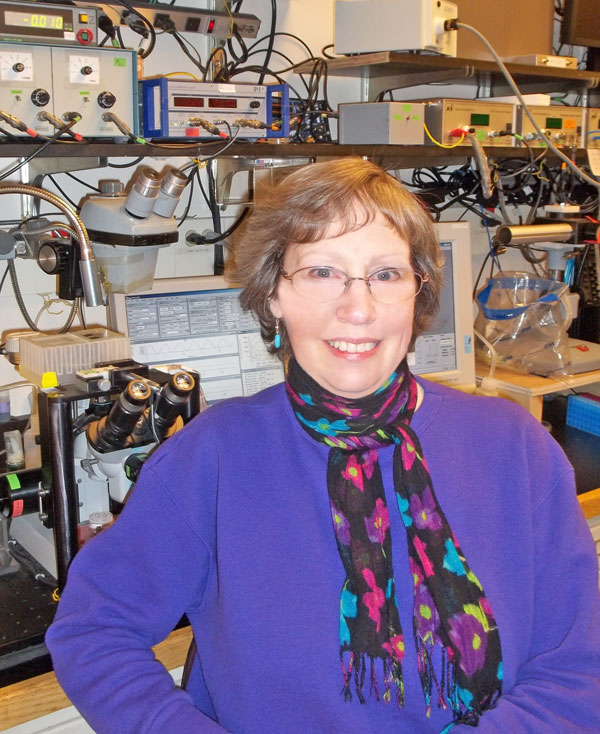 Research Technician
Research Description
I joined the Department in 2002 as a research lab technician to provide technical support in the study of the relationship of certain diseases to muscle function. This includes performing small amplitude sinusoidal analysis on muscle preparations from Drosophila, mice, and humans to measure mechanical properties including myosin-actin cross-bridge kinetics. Most recently, I have focused on studying the effects of heart failure, osteoarthritis, cancer and aging on human skeletal muscle obtained from biopsies. My specialties include muscle tissue dissection, chemical solution preparation, performing muscle experiments, data analysis, and data management.
Highlighted Publications
Miller MS, Farman GP, Braddock JM, Soto-Adames FN, Irving TC, Vigoreaux JO, Maughan DW. Regulatory light chain phosphorylation and N-terminal extension increase cross-bridge binding and power output in Drosophila at in vivo myofilament lattice spacing. Biophysical Journal, 2011 Apr 6; 100(7):1737-46
Miller MS, VanBuren P, LeWinter MM, Braddock JM, Ades PA, Maughan DW, Palmer BM, Toth MJ. Chronic heart failure decreases cross-bridge kinetics in single skeletal muscle fibers from humans. Journal of Physiology 2010; 588(20), 4039-4053.
Miller MS, Dambacher CM, Knowles AF, Braddock JM, Farman GP, Irving TC, Swank DM, Bernstein SI, Maughan DW. Alternative S2 hinge regions of the myosin rod affect myofibrillar structure and myosin kinetics. Biophysical Journal 2009; 96(10), 4132-4143. PMCID: PMC2712142
Miller MS, Lekkas P, Braddock JM, Farman GP, Ballif BA, Irving TC, Maughan DW, Vigoreaux JO. Aging enhances indirect flight muscle fiber performance yet decreases flight ability in Drosophila. Biophysical Journal 2008; 95(5), 2391-2401. PMCID: PMC2517049
Swank DM, Braddock J, Brown W, Lesage H, Bernstein SI, Maughan DW. An alternative domain near the ATP binding pocket of Drosophila myosin affects muscle fiber kinetics. Biophysical Journal 2006; 90(7), 2427-2435. PMCID: PMC1403199