Yuan Wang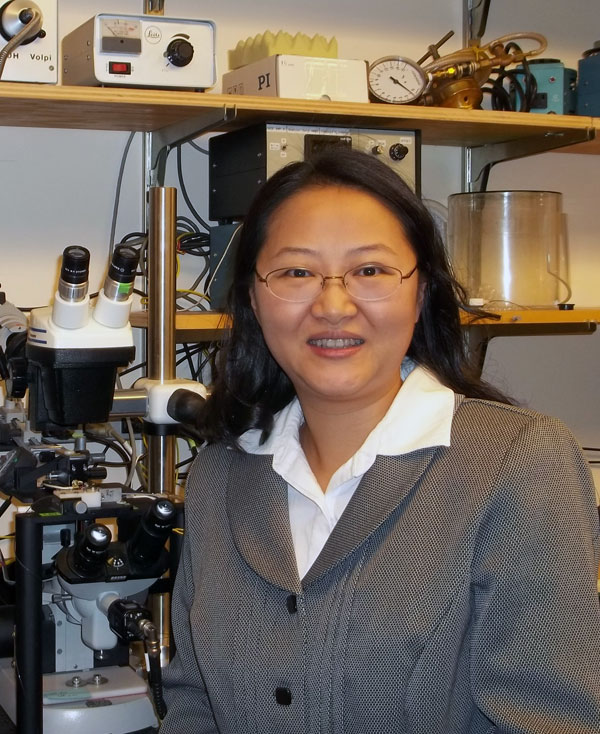 Research Technician
Background
M.S. (2001) Rochester Institute of Technology, in Rochester, NY (Clinical Chemistry); Capital University of Medical Science, in Beijing, China, M.D., 1997 (Clinical Medicine)
Research Description
I perform experiments involving mouse cardiac muscle using sinusoidal analysis techniques as well as using electrophoresis for identification of proteins. Also, I provide administrative and support tasks as needed, such as ordering supplies, maintaining records, and preparation of routine laboratory reagents. Currently, I am involved with cardiac zinc and its regulation of hypertrophy due to pressure overload studies by performing the rat surgery and other experimental procedures to support the research.
Highlighted Publications
Wang Y, Tanner BCW, Lombardo AT, Tremble SM, Maughan DW, VanBuren P, LeWinter MM, Palmer B.M. Cardiac myosin isoforms exhibit differential rates of MgADP release and MgATP binding detected by myocardial viscoelasticity. J. Mol. Cell. Cardiol. 2013 54:1-8. doi:10.1016/j.yjmcc.2012.10.010.
Palmer BM, Wang Y, Miller MS. Distribution of myosin attachment times predicted from viscoelastic mechanics of striated muscle. J Biomed Biotechnol. 2011;2011:592343. Epub 2011 Nov 17. PubMed PMID: 22190855; PubMed Central PMCID: PMC3228685.
Palmer BM, Sadayappan S, Wang Y, Weith AE, Previs MJ, Bekyarova T, Irving TC, Robbins J, Maughan DW. Roles for cardiac MyBP-C in maintaining myofilament lattice rigidity and prolonging myosin cross-bridge lifetime. Biophys J. 2011 Oct 5;101(7):1661-9. PubMed PMID: 21961592; PubMed Central PMCID: PMC3183797.
Selected Awards
Rochester Institute Technology Scholarship spring 2000